This World Premiere play about an interracial couple in crisis by local playwrights Awa Sal Secka and Dani Stoller (Signature's Easy Women Smoking Loose Cigarettes) melds sharp comic dialogue and moving spoken-word poetry on a journey about love and family, privilege and responsibility. Joy introduces us to Shiri and Alaia, navigating their first year together as a couple. Over the course of a few days, their relationship is tested by events that underline the radically different ways each of them, one African-American, one Ashkenazi Jewish, experiences the world. Strikingly personal in its intimacies, this World Premiere is a timely, poetic reckoning with joy and pain woven through deepest love. 
Story by
Awa Sal Secka and Dani Stoller
Directed by
Jason Loewith and Kevin McAllister
Scenic Designer
Misha Kachman
Costume Designer
Danielle Preston
Lighting Designer
Alberto Segarra
Sound Designer 
Matthew Nielson
Dramaturg
Alissa Klusky
Production Stage Manager
Karen Currie
Video: Spoken Word in The Joy That Carries You
Behind-the-Scenes Events
in the Mulitz-Gudelsky Theatre Lab Lobby
Free with RSVP

Simply Sherri is well known for her love and erotic writing, but is unafraid to examine the totality of a black woman's life, poetically illuminating subjects such as depression, misogyny and abuse, and surviving the political climate. Knowing how important it is to connect and share with young people, she has conducted workshops for DC Scores. She has also volunteered with DewMore Baltimore, becoming a "poetry auntie" to many. 
Past Behind-the-Scenes Events
Prior to opening night, co-directors Jason Loewith and Kevin McAllister sat down with the playwrights, Awa Sal Secka and Dani Stoller, to talk about the process of creating their new play.

Watch the recording on the Olney Theatre Facebook and YouTube pages.

The Joy that Carries You examines the radical (and not so radical) differences in privilege and experiences of its two queer protagonists, an African-American woman named Alaia and an Ashkenazi Jewish-American woman named Shiri. The fault-lines in their relationship echo fault-lines in contemporary Black-Jewish community relations, which demand investigation in the wake of our country's racial reckoning and its rising antisemitism. 

Panelists Meredith R. Weisel, Regional Director, Anti-Defamation League, James Stowe, Director of Montgomery County Human Rights Commission consider how the longstanding allyship between Blacks and Jews has been tested in recent American history.

Watch the recording on the Olney Theatre Facebook and YouTube pages.
Accessibility
Audio-described Performance
Sign-interpreted Performance
Learn more about accessibility at Olney Theatre Center.
Seating Configuration
For The Joy That Carries You, the Mulitz-Gudelsky Theatre Lab is using an "Alley Style" configuration where the audience is on two sides of a playing area running down the middle. Both sides are "good seats" and the action plays to both sides of the house. Seats with numbers in the 100s are on one side, and seats with numbers in the 200s are on the other. Seats in Row A for both sides are on the floor of the theatre. All other rows are on risers which require going up a few stairs.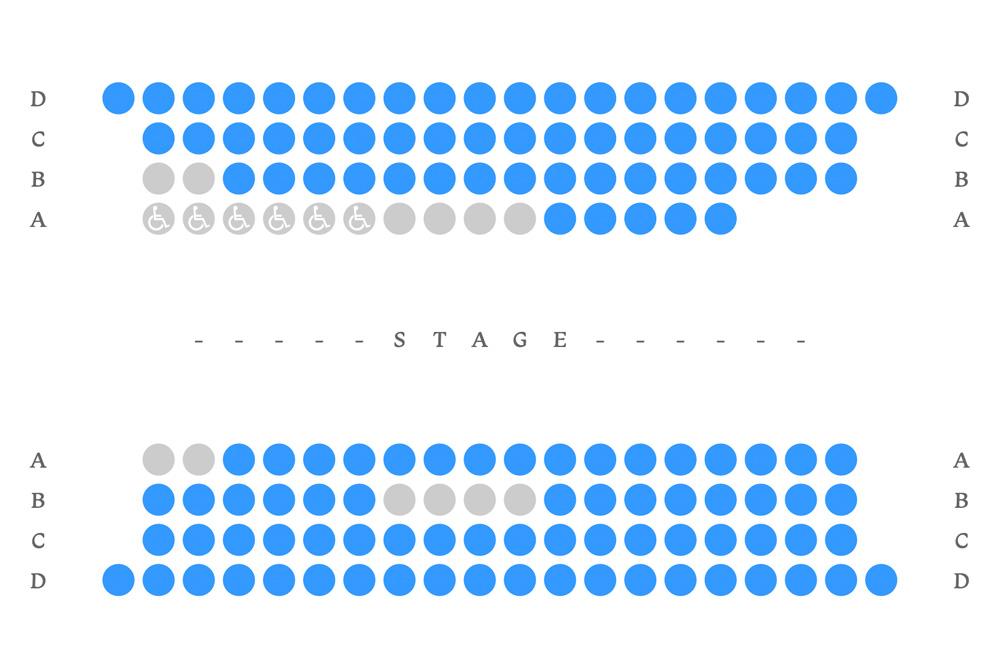 Health and Safety
We ask that if you are experiencing symptoms, please stay home. Use this CDC symptom checklist to see if you need to quarantine or get tested.
PROOF OF COVID-19 VACCINATION
Masks and proof of COVID vaccination are required to attend for all patrons. Exemptions may be made for those who are not vaccinated, such as children under 5, people with certain medical conditions preventing vaccination, or those with closely held religious beliefs. These patrons must provide proof of a timely negative Covid-19 PCR test taken within 48 hours or a rapid antigen test taken within six hours of showtime. Feel free to email info@olneytheatre.org with questions. 
Along with a photo ID, please be prepared to show one of the following proofs of vaccination:
You may present either your original vaccine card, a legible digital or hard copy
You may present one of the commonly used vaccine passport apps that verify both your vaccination status and i.d. such as Health Pass, Bindle, VaxYes
Visit our Health and Safety page for our latest policies to keep you safe as we return to the stage!
The Joy That Carries You
May 15 - June 12 2022