Alissa Klusky, Dramaturgy Apprentice sits down with Artistic and Casting Apprentice, Sultana Qureshi, to chat about their background as an actor and thoughts about working behind the casting table at Olney Theatre Center. Read their conversation below!
Artistic and Casting Apprentice, Sultana Qureshi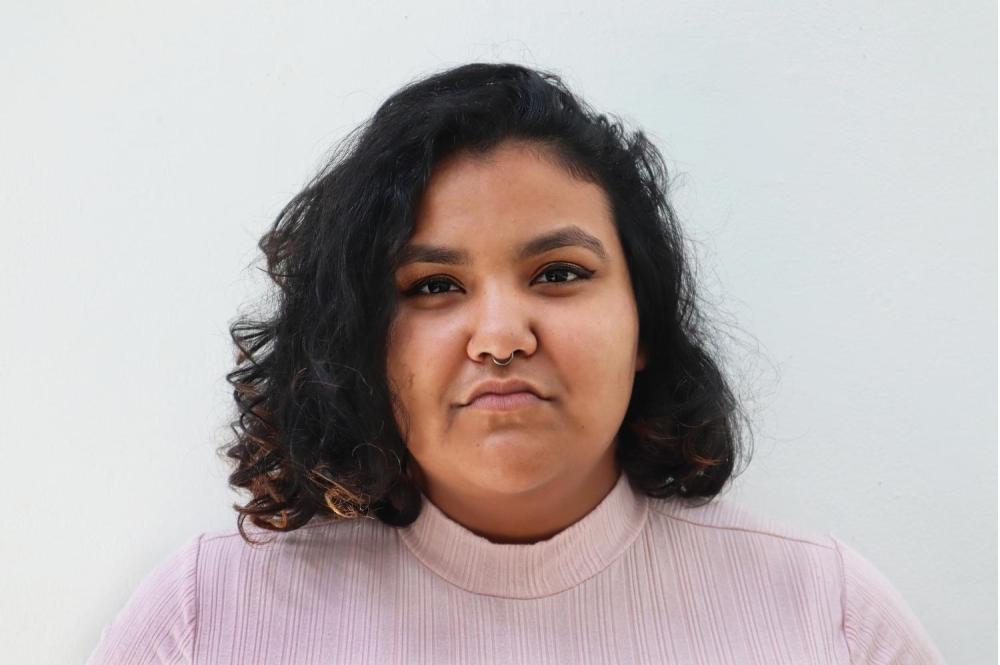 Image credit
Alissa Klusky: Hi there! Thanks so much for sitting down with me to chat about your artistic career and how you ended up making art here at Olney Theatre! To start off, can you introduce yourself and also include how you describe yourself as an artist?
Sultana Qureshi: Hello! My name is Sultana Qureshi and my pronouns are they/them/theirs. And honestly, I don't know if I would identify as an artist. I'm just gonna go ahead and say I don't. So, I was an actor for most of my life, prior to coming on as the Artistic and Casting Apprentice. I think I associate so heavily the idea of being an artist with creation. And I don't know if I still create in the same way.
AK: Interesting, I'm sure we'll touch more on that later. [laughs] What was the "spark" that got you interested in joining the theatre industry? 
SQ: It was a Broadway show, which was wonderful, and I enjoyed a lot, but I was six so I enjoyed it solely as a piece of entertainment. But then, a couple years later my mom took me to an elementary school production of Aladdin, and it clicked that kids could also do theater, like I as a kid could do theatre. And I was like: "Those are kids just like me!" How exciting! On Broadway it's all essentially adults and very special and particular children, right? But in an elementary school show they just let anyone do it?! So yeah, I saw that and I said to my mom: "I wanna do that!" And I think I've had those moments throughout my life. And recently I saw A Strange Loop at Woolly Mammoth and it was such a wonderful show that I've never seen anything like. And I'm so curious as to see what its life on Broadway is going to look like because I don't know how ready commercial theater is for certain things, but it's still so thrilling to me to know that those things are being written anyway and are being received well and are successful. And so sometimes I see shows like that I'm like should I get back into acting? Like can I do that if people are willing to do shows like this, can I still do it? Even after seeing our production of Beauty and the Beast, I think could I conceivably do this actually? So, I feel like I've had a lot of moments where I see something on stage, and I'm reminded of that feeling when I thought: "I wanna do that too."
AK: Do you feel that the reason you stepped away from acting and into the admin and casting world is because you felt you didn't see yourself onstage? 
SQ: Absolutely. I was not seeing myself onstage. Acting is hard regardless of who you are. As a career it is incredibly difficult. But I think I was definitely discouraged by thoughts of: "How am I going to make a living and support myself if people are unwilling to even tell stories that I would fit into." Yeah, I still think that it is mostly the norm. But I see shows more and more now where I'm like: "I'm compelled by this. This might pull me back in." 
AK: So, if you were feeling disconnected from theater as an art maker or as capital A "Artist," what led you to take the apprenticeship here at Olney?
SQ: Something that is very compelling to me is the idea of being a gatekeeper. The people who have decided who goes on stage and what stories get told have historically been the same kind of person. I think frequently that can lead to just putting other people like themselves on stage. So what is so compelling to me specifically about casting and the artistic side of this business is you get to be the person who decides: "Maybe this cast shouldn't be all white. Or maybe this cast shouldn't all be skinny. Or maybe this cast shouldn't all be attractive BFA graduates in their early 20s." We need people to see themselves on our stages or else what's the point of us doing this? They can go see a show that's conventionally cast anywhere. That's why I picked Olney specifically because there is at least a form of commitment here to not doing conventional shows anymore.
AK: Do you have any thoughts surrounding casting choices where we're casting trans actors in roles that were originally written or cast with cis people in mind? I feel like this connects to a conversation we were having earlier about casting as a means of opening a script and re-investigating it or casting non-traditionally and just saying these are the given circumstances now.
SQ: I mean I think it's both. When I saw a recording of the performance of George Salazar and MJ Rodriguez singing "Suddenly Seymour" when they did Little Shop of Horrors at the Pasadena Playhouse, I thought it was so beautiful and there was a deeper context. And they didn't change anything about the script; they didn't say, "and now Audrey is trans." But it still meant so much more to have a black trans woman singing those songs. And to hear those words sung by MJ? It's like, yes, Audrey is a woman because again, her gender is also incredibly important to the story, but it's still brought out so much more. 
AK: When you read a script for the first time, and you're thinking about it from a casting perspective, what does that process look like? 
SQ: Immediately I just don't want to think about it in terms of how it's been cast in the past. I think our default is white. I'll just say it. I think our default is white, our default is cis, our default is skinny. So, I think we all have to think in terms of: "Who in this piece can not be the default? Or is it written so that nobody is the default? Who is this individual piece's default?" 
AK: What types of projects are you most drawn to working on? 
SQ: I mean, the first show that comes to mind is a show like Dance Nation, which I'm Assistant Directing later this season. What I appreciated from the very first moment reading that play is that when you open the script there is a playwright's note reminding you: Don't do your default. The play calls for as many different types of women on this stage as possible, and that is how the story will be stronger. I think to be honest, it's because I am not the default. And it's taken a while for me to find shows like this and I think that's like where a lot of my distance with the art I used to make comes from because I always felt like the shows I was in didn't really reflect me. I've never really played a non-binary person. I've certainly never played a South Asian or Southeast Asian person that was written to be that way in the text. I have frequently felt othered by shows that I have been in, which I think now is why I feel such a distance between me and acting because obviously acting is pretending to be someone you are not. But I think that it's easier to say that when you frequently get to play people who reflect who you actually are. So, that's why I think that I have struggled with the artist label because it's rare to feel that connected to the shows I have been in. Which is why I'm so thrilled to be working on Dance Nation because I do feel a connection to the text and the work. 
AK: Hedwig and the Angry Inch is currently playing at Olney Theatre Center. Throughout the show, Hedwig finds a way to celebrate herself through artistic expression. How do you celebrate your identity through your art?
SQ: I feel like I need to not discount myself from the process, because ultimately, by being here we all have some hand in art making. So, with that in mind, I think just being who I authentically am in the office. Speaking in the context of gender, I had never worked with a non-binary adult, and I was so surprised to see that there are also other non-binary people in this apprentice And so it gave me the courage to say what my pronouns are and this is who I am and what I do. And that can be really difficult in an office setting. I think throughout this apprenticeship specifically I've been much more truthful with everyone about who I am. And yeah, that's my answer!
AK: I think that's a great answer.
SQ: Well, thank you! [laughs]